The Story of FixMySkin Healing Balms
Sometimes an invention is as simple as a problem that needs to be solved

FixMySkin came about in 2007 when 12-year-old Daniel Schlessinger used his lip balm to soothe his dry, cracked fingertips.
It was winter in Nebraska, his skin was dry and chapped and lotions helped only briefly. Out of curiosity, Daniel put lip balm on his hands. He noticed that the salve relieved his dry skin and lasted longer than hand lotions and wondered – why not create a similar product for use on the skin? His father, board-certified dermatologist Joel Schlessinger, MD, recognized the benefits that this type of product could provide but wondered if the product they were looking for was already on the market. After an extensive search, they found lip balms with medications in them, but no skin balms that contained medications, such as hydrocortisone, or any that were specifically aimed at dry, cracked skin on the fingers or other targeted areas. The products they did find that contained hydrocortisone worked for lips but had a bitter taste.
A Mission for Dry Skin Relief
Daniel now had a mission… to create an effective medicated balm that would heal the skin and taste good and that came in a convenient, compact package that could be easily stored in a pocket, purse, or bag. Daniel involved his father, Joel Schlessinger, and his grandfather, Bernie Schlessinger, a PhD in physical chemistry, as mentors. Daniel also began working with a set of chemists in meetings held after school, before track practices or whenever he had free time. The work to create just the right product continued, and Daniel began using his vacations and time off from school to travel to potential manufacturers to make the product.
While most existing lip balms only coated the surface of the skin, Daniel and his mentors realized that a new product would need to do much more  than address the issue at the surface level—it would need to contain a medication to heal the skin and penetrate below the surface. In addition, the medication would need to be able to be added to a solid stick product without making it unpalatable or too soft. It had to stand up to the cold winters in Nebraska and maintain its ability to spread easily but also stay solid if placed in a warm pocket.
As Daniel grew up, the research continued and he became increasingly involved with the product development thanks to his advanced chemistry courses in middle school and physics courses in high school, and eventually he took on most of the product development duties. Most of the suppliers Daniel spoke with had no idea he was a 16-year-old senior in high school—they just assumed he was a graduate chemist with a talent for creating a great product and a keen eye for detail. Those closely involved in the process, including the patent attorney, manufacturer, and Bernie and Joel Schlessinger were delighted in mentoring Daniel through this process.
The final application and manufacturing process coincided with the explosive growth of Joel Schlessinger's website, LovelySkin.com, and Daniel's application process to college and premedical programs. As the last details were being finalized, Daniel learned that he was accepted to the prestigious 7-year combination undergraduate/medical program at Northwestern University in Evanston, Illinois.
A Skin Repair Solution is Born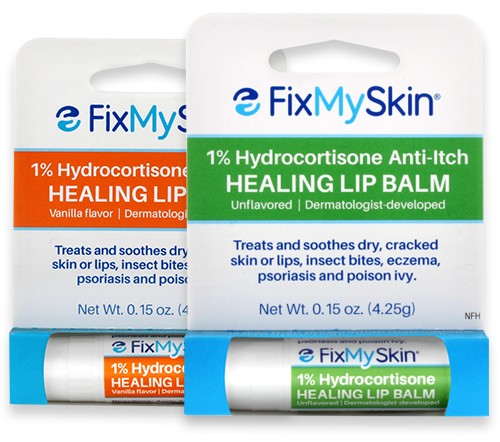 FixMySkin is proud to offer an innovative solution to several, all-too-common, skin problems—the unique formulation of a medicated balm containing 1% hydrocortisone can be used to treat dry skin, chapped lips, psoriasis, eczema, insect bites, poison ivy, seborrheic dermatitis and allergic skin reactions to cosmetics and other products.
Hydrocortisone, the bedrock of the FixMySkin balms, has chemical properties that help heal rather than merely moisturize the skin, and the special formulation allows for a higher level of effectiveness than plain hydrocortisone creams. In addition, a unique combination of waxes and hydrocortisone results in a product with a different melting point than any other product already on the market, allowing it to remain solid even when warm. This product has been featured in numerous high profile publications, including the New York Times and Allure, and FixMySkin debuted on The Dr. Oz Show, as well.